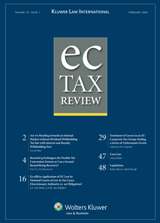 Please find below the journal abstract of "VAT and Brexit: The Past, Present and Future" by Jeremy Cape, published in  EC Tax Review, Volume 27, Issue 6, edited by B. J. Kiekebeld
Exact science rarely emerges during times of febrile political discourse such as that currently revolving around the withdrawal of the UK from the EU. Woody Allen once wrote of a man named C.N. Jerome, a psychic, who claimed he could guess any card being thought of … by a squirrel.[1] W. Allen, The Insanity Defense (Random House, 2007), 126. Jerome may equally have professed to divine the outcome for UK VAT policy in the not-too-distant future (namely, 11 pm on 29 March 2019). Owing to this uncertainty and the possibility of up-to-date authorship becoming outdated by the time of publication, the authors have strived to cover certain topics in relation to VAT policy and Brexit with a caveated generality and occasional, hesitant prediction.
_____________________________
To make sure you do not miss out on regular updates from the Kluwer Regulating for Globalization Blog, please subscribe here.